Sunday, October 21, 2007
selamat hari tua untuk kaka owon.
Semoga panjang umor and murah rezeki~
klik here
for the special ole2
dari,
ur adik2 yang still muda-mudi..hhehehee
Friday, October 19, 2007
Kami...drama bersiri kat 8TV.
Aku baru berpeluang tgk kat Online 8TV.
Aku suka citer ni. Best. Semua Best.
Cast dia yang nama Ali paling best~
Huhhh..tak tahan~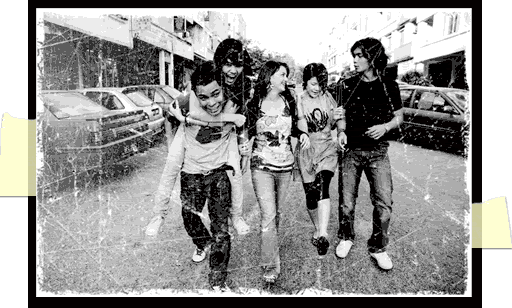 Aku suka cara dia berdialog, gaya dia, cara dia!! huhh~ COOL.FULLSTOP
Lagii...apa yang best ttg citer ni...
hmmmm
lagu kat dlam citer tu best juga!!
Lagu untukmu.Nyanyian Meet Uncle Hussain
Tiada bintang
Dapat menerangkan hati yang telah dicela
Bagai ku lumpuh tak mampu berdiri
Aku tetap begini takkan berubah kerna
Aku tetap aku dan alur hidup mu bukanlah aku
Guna hati akal dan fikiranku
Berbeza engkau dan juga aku
Dua hati yang tak mungkin bersatu
Adakah aku
Hanya bonekan yang enkau sering mainkan
Yang dikawal oleh jari jarimu
Ku punya hati dan perasaan
Pernahlah engkau fikirkan
Cukuplah cukup oh cukuplah
Guna hati akal dan fikiranmu
Berbeza engkau dan juga aku
Dua hati yang tak mungkin bersatu
Tak tahan tak tahan
Sabarku tak tertahan
Melayan sikapmu perawan
Berbeza berbeza
Kau dan aku berbeza
Kita memang tak serupa
Bebaskan
Ku ingin dilepaskan
Kita tidak sehaluan
Cukuplah sudahlah
Sampai disini sahaja
Hubungan kita berdua
>>iekabean<<
Thursday, October 18, 2007
kia ora...

saja test je ni.... :P
hepi2 selalu...